Doris Duke Artist Awards
Andrew Cyrille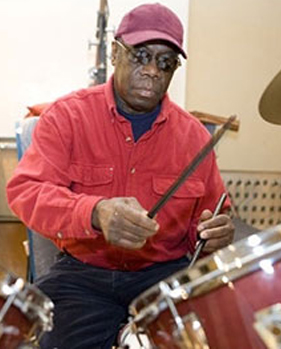 Andrew Cyrille, a 2020 Doris Duke Artist in the jazz category, is a master drummer and composer who is lauded for his prowess at reshaping jazz's rhythmic syntax while engaging with its lineage. His most recent albums as a bandleader include "Lebroba" (2018), which featured guitarist Bill Frisell and trumpeter Wadada Leo Smith, both Doris Duke Artists, and "The Declaration of Musical Independence" (2016), which also featured Frisell, keyboardist Richard Teitelbaum and bassist Ben Street. He has three albums with the group TRIO3, which features Doris Duke Artist Oliver Lake and Reggie Workman, and of which he has been a member for more than 28 years. Rolling Stone listed "Lebroba" as one of the best jazz albums of 2018, calling Cyrille "one of the great deep-listening drummers in contemporary jazz." In 2011, Cyrille formed Haitian Fascination with Haitian percussionist Frisner Augustin, Haitian guitarist Alix Pascal, baritone saxophonist Hamiet Bluiett and bassist Lisle Atkinson to honor his Haitian parents and heritage. The group continues to actively perform under a different lineup due to the passing of Augustin, Bluiett and Atkinson. He is also currently on the faculty at The New School for Jazz and Contemporary Music in New York City.
At age 11, Cyrille began to learn drumming at St. Peter Claver grammar school drum and bugle corps in Brooklyn, New York. Circa 1958, he was mentored by drumming great Philly Joe Jones. He later studied percussion and composition at The Juilliard School and Hartnett School of Music. Beginning in 1964, Cyrille's 11-year iconic collaboration with pianist Cecil Taylor would define the category of free jazz drumming and establish Cyrille in the vanguard of jazz drummers and percussionists. He was the drummer on Billy Bang's "A Tribute to Stuff Smith," noteworthy for being the last studio session of Sun Ra, and has also formed several percussion groups featuring notable drummers.
Cyrille has been recognized with many awards and prizes, including the Guggenheim Fellowship in Composition, three National Endowment for the Arts grants, two Meet the Composer/AT&T-Rockefeller Foundation grants, an Arts International Award to perform with his quintet in Accra, Ghana and West Africa, and two American Society of Composers, Authors, and Publishers awards for meritorious achievement in percussion composition. He was selected as Artist In Residence for the 2017 Winter Jazzfest in New York City. In 2019, he was given the first Jazz Laureate Award in Montclair, New Jersey and the Vision Festival Lifetime Achievement Award by Arts for Art, Inc. in New York, New York.
See the other 2020 Doris Duke Artists