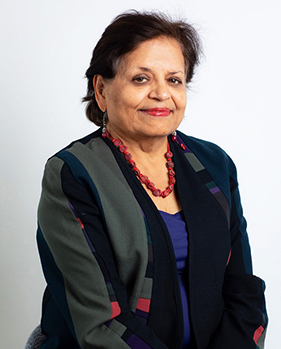 Vishakha N.
Desai, Ph.D.
Dr. Vishakha N. Desai is senior advisor for Global Affairs to the president, chair of the Committee on Global Thought and senior research scholar at the School of International and Public Affairs at Columbia University. Prior to joining Columbia University, Dr. Desai served as the president and CEO of Asia Society from 2004 to 2012, where she expanded the organization's programs such as the Asia 21 Young Leaders initiative. In this role, she also established centers and new offices in India and Korea, a new center of U.S.–China Relations and inaugurated two new architecturally distinguished facilities in Hong Kong and Houston, Texas. Prior to becoming the leader of Asia Society, Dr. Desai served as the senior vice president and director of its museum and launched a robust program of contemporary Asian and Asian American arts though major exhibitions, performances and publications.
Dr. Desai is a noted scholar of South Asian art and history, and she is well known for her leadership in presenting contemporary Asian art to American audiences, as well as for her focus on exploring the intersection between culture and politics. In 2012, in recognition of Dr. Desai's leadership in the museum field, President Barack Obama appointed her to serve on the National Museum and Library Services Board. An author of major exhibition catalogues and scholarly publications, Dr. Desai recently published a memoir, "World as Family: A Journey of Multi-Rooted Belongings" (Columbia University Press, 2021), which articulates the need for a capacious sense of global belonging.
In addition to serving on the board of the Doris Duke Foundation, Dr. Desai also sits on the board of directors of KREA University, projected to be one of India's top private Liberal Arts universities, and on the corporate board of Mahindra & Mahindra, one of India's largest corporations. She is the past chair of AFS International and has served on the boards of the Brookings Institution, the College Art Association and the Association of Art Museum Directors.
Dr. Desai is a recipient of five honorary degrees from U.S. universities, and she holds a Bachelor of Arts in political science from Bombay University, as well as a Master of Arts and Ph.D. in Asian art history from the University of Michigan.