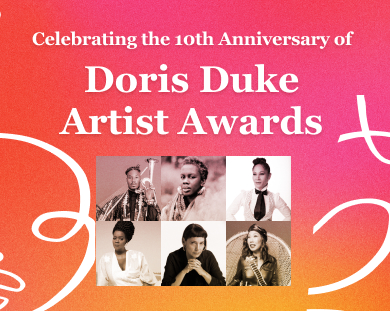 The Doris Duke Foundation believes that the most effective illustration of the power of the performing arts to positively impact our society is found in the vital work of artists themselves.
Established in 2012, the Doris Duke Artist Award is the largest national prize dedicated exclusively to individual performing artists. Each year, the Doris Duke Artist Awards support select performing artists across the fields of contemporary dance, jazz and theater with unrestricted individual grants. The goal of the award is to propel leading performing artists and to demonstrate the creative possibilities that emerge when artists themselves are able to define—and provide for—what they need to thrive.
Since inception, 129 Doris Duke Artists have received a total of $35.5 million in Doris Duke Artist Awards, each receiving individual grants of up to $275,000. The Doris Duke Foundation seeks to inspire arts philanthropy to rethink the prevalent project funding model by providing artists with flexible support that allows them to take creative risks that are only possible when all needs are met. Doris Duke Artists may use funds on anything: work space, travel, study, a new home, health care, exploring new collaborations or retirement savings. The foundation believes that investing in the artist as a whole person has the power to unlock new levels of creativity and to amplify performing artists' contributions to the world.
Read our announcement of the six performing artists who received this year's newly doubled prize of $550,000 at the Doris Duke Artist Awards tenth anniversary celebration at Jazz at Lincoln Center.
Meet the 10th Anniversary Class of Doris Duke Artists
In February 2023, all new and previous awardees received the first-ever Doris Duke Artist Award statuette, "The Dancer," which the foundation commissioned noted sculptor and architect Tarik Currimbhoy to design. This first-ever physical representation of the award will be provided from here forward along with the unrestricted grant of $550,000 that goes to each artist. To learn more about "The Dancer," including how it was made, please watch the video below.
Hear from Doris Duke Artists about how the Doris Duke Artist Award has unlocked the conditions for creativity and allowed them to achieve their visions. In the video below, Nora Chipaumire, David Henry Hwang, Dael Orlandersmith, Kyle Abraham, Peggy Shaw, Terri Lyne Carrington and Darcy James Argue talk about what artists need to thrive and the powerful effects of unrestricted funding to artists.
To view previous recipients of the Doris Duke Artist Award, please explore the What We've Funded section of our site.
What We've Funded
Stay close to the conversation