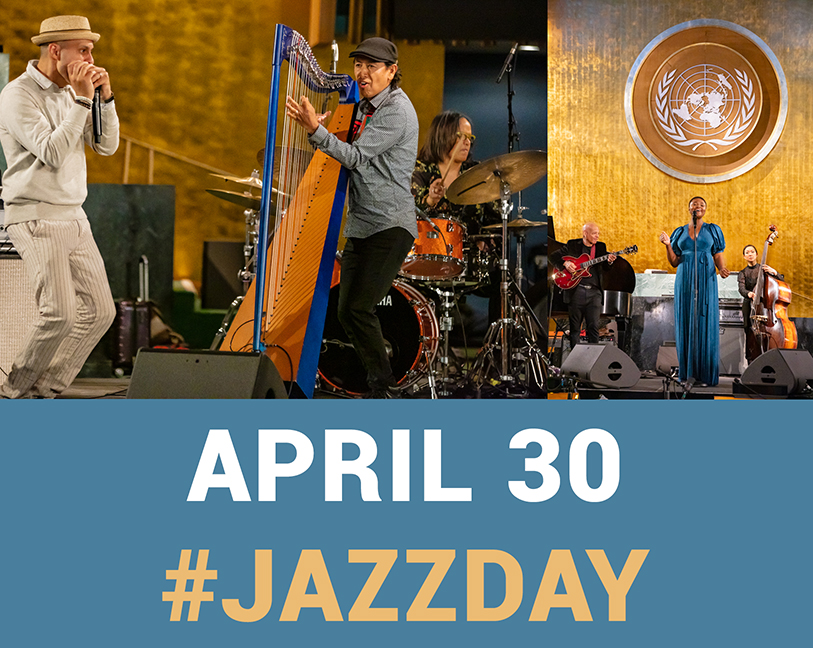 A Bold Commitment to Jazz
The Doris Duke Foundation (DDF) has long been a vital funder of jazz. DDF is proud to renew its commitment for International Jazz Day to uplift jazz artists globally and celebrate the history, future and impact of the artform. Watch the 2023 International Jazz Day All-Star Global Concert below or at jazzday.com.

Doris Duke Artists at International Jazz Day 2023
The Doris Duke Artist Awards program supports up to six performing artists annually, across the fields of contemporary dance, jazz and theater, with unrestricted individual grants that celebrate their extraordinary and innovative artistry by unleashing their ability to chart their own courses, take creative risks and define what they need, personally and professionally, to thrive and create powerful work. Since the inception of the Doris Duke Artist Awards in 2012, the foundation has awarded a total of $12.6 million in funding to 44 jazz artists. This year, three Doris Duke Artists were honored to be featured for International Jazz Day. Read more about them below.

Ambrose Akinmusire
Ambrose Akinmusire is a Doris Duke Artist and two-time Grammy Award-nominated trumpeter and composer who has been described by The New York Times as "the most distinctive, elusive and ultimately satisfying trumpeter of his generation." Born and raised in Oakland, California, Akinmusire was a member of the Berkeley High School Jazz Ensemble when he caught the attention of saxophonist Steve Coleman. Akinmusire was asked to join Coleman's Five Elements, embarking on a European tour when he was just a 19-year-old student at the Manhattan School of Music. After returning to the West Coast to pursue a master's degree at the University of Southern California, Akinmusire went on to attend the Thelonious Monk Institute of Jazz in Los Angeles, where he studied with Herbie Hancock, Wayne Shorter and Terence Blanchard.
In 2007 Akinmusire won the prestigious Thelonious Monk International Jazz Competition, decided by a panel of judges that included Blanchard, Quincy Jones, Herb Alpert, Hugh Masekela, Clark Terry and Roy Hargrove. That year Akinmusire also won the Carmine Caruso International Jazz Trumpet Solo Competition and released his debut album Prelude…To Cora on the Fresh Sound label. He moved back to New York and began performing with the likes of Vijay Iyer, Aaron Parks, esperanza spalding and Jason Moran.
During his 15-year career, Akinmusire has paradoxically situated himself in both the center and the periphery of jazz, most recently emerging in classical and hip hop circles. He's on a perpetual quest for new paradigms, masterfully weaving inspiration from other genres, arts, and life in general into compositions that are as poetic and graceful as they are bold and unflinching. His unorthodox approach to sound and composition make him a regular on critics polls and have earned him grants and commissions from the the MAP Fund, the Kennedy Center, The Berlin Jazz Festival and the Monterey Jazz. While Akinmusire continues to garner accolades, his reach is always beyond—himself, his instrument, genre, form, preconceived notions and anything else imposing limitations.

Dee Dee Bridgewater
Dee Dee Bridgewater is a Doris Duke Artist, NEA Jazz Master, three-time Grammy Award-winning singer-songwriter and Tony Award-winning stage actress. In addition, her commanding personality made her a natural for hosting the award-winning National Public Radio syndicated radio show JazzSet with Dee Dee Bridgewater from 2001 to 2014. She is also a United Nations Goodwill Ambassador for the Food and Agriculture Organization, which leads international efforts to defeat hunger and improve nutrition and food security. In 2019, Bridgewater co-founded The Woodshed network, a professional development and career acceleration program for self-identified women in jazz.
Over the course of a multifaceted career spanning four decades, Bridgewater has ascended to the upper echelon of vocalists, putting her unique spin on standards, as well as taking intrepid leaps of faith in re-envisioning jazz classics. Always bridging musical genres, Bridgewater earned her first professional experience as a member of the legendary Thad Jones/Mel Louis Big Band, and throughout the '70s she performed with such jazz notables as Max Roach, Sonny Rollins, Dexter Gordon and Dizzy Gillespie. After a foray into the pop world during the 1980s, she relocated to Paris and began to turn her attention back to jazz. Signing with Universal Music Group as a producer (Bridgewater produces all of her CDs), Bridgewater released a series of critically acclaimed titles beginning with Keeping Tradition in 1993. All but one, including her wildly successful double Grammy Award-winning tribute to Ella Fitzgerald, Dear Ella, have received Grammy nominations.

Somi Kakoma
Somi Kakoma, known in the jazz world simply as "Somi," is a Doris Duke Artist, vocalist, composer and writer whose music is guided by her experiences traversing the cultural bridge between Africa and America. Born in Illinois to parents who emigrated from Rwanda and Uganda and closely mentored by the legendary trumpet player Hugh Masekela, Somi has carved out her own path as an artist, scholar and activist.
Somi's latest album, "Zenzile: The Reimagination of Miriam Makeba" is a deeply personal tribute to the groundbreaking South African singer and activist Miriam Makeba, and is a companion piece to Somi's original play, "Dreaming Zenzile." In October 2022, the album was awarded Best Jazz Vocal Performance at the inaugural Jazz Music Awards. Somi's prior release, "Holy Room - Live at Alte Oper with Frankfurt Radio Big Band," earned a 2021 Grammy nomination for Best Jazz Vocal Album, making Somi the first African woman ever nominated in any of the Grammy jazz categories.
Somi holds undergraduate degrees from University of Illinois at Urbana-Champaign, a master's degree from New York University's Tisch School of the Arts and is currently working on her Ph.D. at Harvard University's Department of Music. She is a Soros Equality Fellow, a United States Artists Fellow, a TED Senior Fellow, a Sundance Theatre Fellow and a former artist-in-residence at Park Avenue Armory, the Rauschenberg Residency on Captiva, Baryshnikov Arts Center and UCLA's Center for the Art of Performance. Her other accolades include multiple NAACP Image Awards and repeated ECHO Award nominations, among others. Often celebrated for the socio-political messages inherent in her songwriting, she performed at the United Nations' General Assembly on request from Secretary General Ban Ki-Moon in commemoration of the International Day of Remembrance of the Victims of Slavery and the Transatlantic Slave Trade.
She is also the founder of Salon Africana, a boutique cultural agency and record label.
Performances from International Jazz Day in 2022 were streamed on PBS on April 28, 2023 and are also available on the International Jazz Day YouTube channel.
---
Photo captions
Banner, desktop (from left to right)
1. Erena Terakubo and Jeremy Pelt perform at the 2022 International Jazz Day All-star Global Concert at the United Nations. (Photo: Steve Mundinger / Herbie Hancock Institute of Jazz)
2. Mark Whitfield, Lizz Wright and Linda May Han Oh perform at the 2022 International Jazz Day All-star Global Concert at the United Nations. (Photo: Steve Mundinger / Herbie Hancock Institute of Jazz)
3. Gregoire Maret, Edmar Castañeda and Terri Lyne Carrington perform at the 2022 International Jazz Day All-star Global Concert at the United Nations. (Photo: Steve Mundinger / Herbie Hancock Institute of Jazz)
Banner, mobile (from left to right)
1. Gregoire Maret, Edmar Castañeda and Terri Lyne Carrington perform at the 2022 International Jazz Day All-star Global Concert at the United Nations. (Photo: Steve Mundinger / Herbie Hancock Institute of Jazz)
2. Mark Whitfield, Lizz Wright and Linda May Han Oh perform at the 2022 International Jazz Day All-star Global Concert at the United Nations. (Photo: Steve Mundinger / Herbie Hancock Institute of Jazz)
Stay close to the conversation